Urbanautics is the study and practice of designing and operating massively connected autonomous and intelligent systems in the urban environment for the public good.
Digital networks have reformed our information, media, communications, and commerce landscape in the last 25 years. Over the next 25 years, digital networks will merge with physical objects like buildings, cars, UAVs, helper robots, and traffic routing systems. Extending these digital networks into public and private spaces has profound human and civic implications. Autonomous capabilities will allow these devices to analyze the environment, make decisions, and take actions on their own. Cities will become amalgamations of autonomous robotics and data networks engaging with people. Japan calls this Society 5.0.
What is Society 5.0? The definition from the Japanese Cabinet Office is: "A human-centered society that balances economic advancement with the resolution of social problems by a system that highly integrates cyberspace and physical space."
Urbanautic engineers will help integrate the physical and digital worlds and ensure they align with the core principles of the communities they serve. There are hundreds of valuable services can bring to residents and provide more resilience.
Universities are Advancing Studies in Urbanautics
Three critical Foundations for an Intelligent City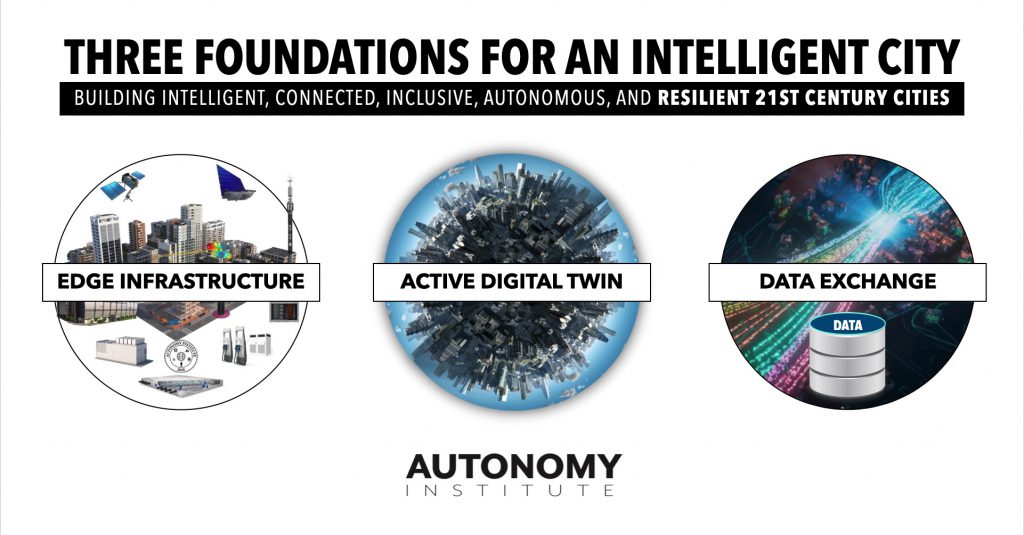 Intelligent Infrastructure
Edge computing and 5G wireless networks are seen as two of the most vital components of the enablement of Industry 4.0 applications and solutions. Latency, data volume, and compute. This new computing layer will provide new levels of low-latency and high-performance data processing at the point of data creation. This requires new digital infrastructure on city sidewalks and the Autonomy Institute has worked with over 40 industry partners to develop a new standard called the Public Infrastructure Network Nodes (PINN).

PINNs are the bridge between the digital and the physical world at the point of data creation. The Public Infrastructure Network Node (PINN) initiative is the first unified open standard to support Broadband, 5G wireless, Edge Computing, Radar, Lidar, Enhanced GPS, and Intelligent Transportation Systems. PINNs are designed to deliver a multitude of advanced edge sensors and computing capabilities. This digital infrastructure will support decades worth of commercial impact and provide a platform that can easily be upgraded with new sensors, new radio access networks, and the continued evolution of computing resources. Data gravity now mandates that processing occurs at the digital edge and the PINN will power this next layer of computing.

Find out more about Digital Edge Infrastructure: Autonomy Institute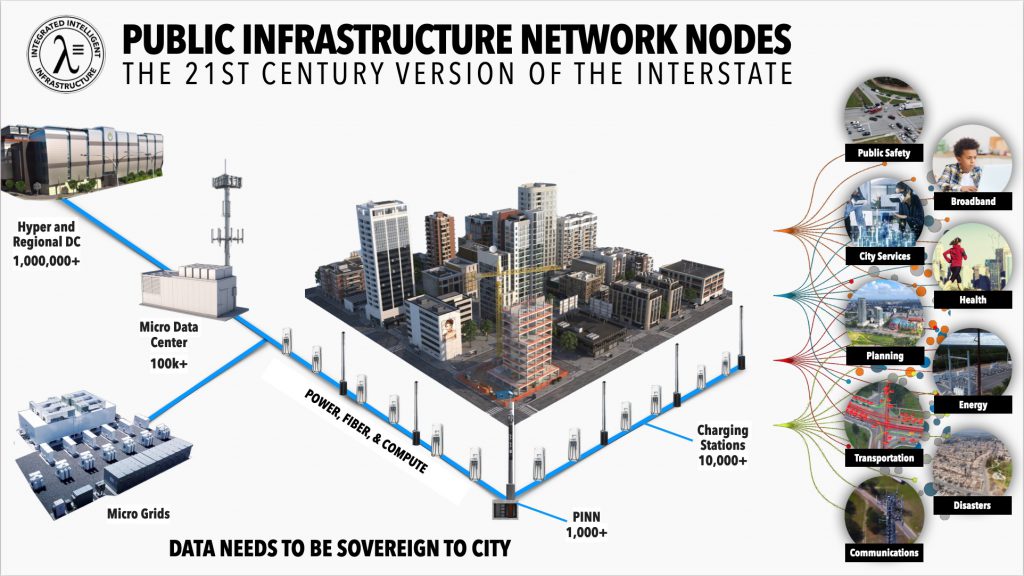 Active Digital Twin
Intelligent cities, ports, highways, or facilities required an active digital twin. A city-scale digital twin supports the requirements of designing, modeling, and operating an intelligent city. Digital twins are a virtual representation of a city, port, highway, vehicle, or object, constructed only by a digital database. A digital twin could vary in representation from simple localization metadata, to high fidelity visual and dynamic modeling. This means twins can evolve over time, becoming more and more representative of their real-world counterparts. Real-time updates, state changes, and abnormality alerts are all simplistic use cases for digital twins. For cities, it is critical to keep operations moving smoothly, and having the ability to monitor operations remotely increases worker safety and decision making – this can save both time and money.
The active Digital Twin has several system types including the GIS Foundational Model; the Physics-Based Model; and the Operational Control Model.
GIS Foundation Model: The first phase of the digital twin is building the foundation of the 3D GIS system that supports BIM, planning, and engineering.

Physics-Based Model: The second phase is a high fidelity physics-based layer that can provide the key attributes needed for simulation and modeling. Use cases like planning the installation location of 5G and other "radio" communication systems and sensors for ground and air system operations, especially when they are autonomous. The modeling fidelity needed for these goes well past the approach most industries use, as well as gaming-based technology. The Autonomy Institute will be leveraging advanced physics and real-time performance technology from the DoD and aerospace.

Operational Control Model: The operations model becomes the Active Digital Twin of the city representing a growing real-time view of the city. This model enables operational and public safety viewports, automated response & inspection across the city, multimodal transportation optimizations, enhance asset insight, and monitoring of critical systems to maintain resilience.
Data Exchange
Intelligent cities will also depend on the creation of "Data-Exchanges", a sovereignty database of all the information collected by the city IoT systems and sensors. The Data-Exchange will allow secure, private, and transaction sharing of valuable data assets with trusted and approved partners. Data Exchanges will not only support more efficient operations it can become a new revenue platform for the city. 

Find out more about Data Exchanges: W3C Web of Things
Intelligent Cities will impact the largest segments of our society.
The global smart cities market is anticipated to reach USD 2.57 trillion by 2025 (Grand View Research.)

Cities will contain over 60% of the global population. The challenges and complexities will increase dramatically and in order for cities to thrive, we will depend on Intelligent & Autonomous Infrastructure requiring new kinds of public policy and markets.

The number of sensors and data collection points will increase by multiple orders of magnitude.

The data collected by these systems will allow for real-time tuning of how a city operates and how resources are allocated.

A marketplace of multilayer, multivendor networks, devices, and services will create new opportunities and challenges for city management

Standards are needed for communication protocols, development stacks, quality assurance, physical interfaces, metadata, etc.

Hierarchies of operating priorities must be established and refined to allow for things like emergency automated routines taking precedence over standard daily processes (deliveries, transport, etc.)
Urbanautics studies the automated feedback loops between Data, Infrastructure, and Services. It helps to inform sub-system engineering and policy for Hardware, Applications, Infrastructure, Public Policy, Markets, Privacy, and other topics that are dramatically impacted by full civic automation and autonomy. The practice of Urbanautics envisions how these systems and priorities can be balanced to maximize the quality of life for the public.