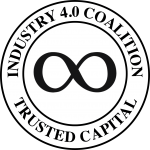 There was a moment of time that for rail, for electricity, for communications, for aviation, for interstate highways, for the internet, for the cloud, . . . . . . . and now for the Intelligent Edge Infrastructure that will be the foundation for Industry 4.0. Electric vehicles, resilient electricity, additive manufacturing, autonomous systems, aerospace taking us to mars, intelligent and autonomous corridors, and the first country to have unlimited bandwidth to anyone that wants to consume it.
Last 50+ years: The genesis of silicon valley was DOD; then venture came in to commercialize many of the innovations developed. This created the digital age.

Next 100 years: Industry 4.0 will be built on "Dual-Use" innovations and will drive DOD and Commercial together. This will merge the digital with the physical and automate the world around us.
Industry 4.0 Enables:
Previously Unrealized

Economic Efficiencies and Commercial Growth

The Creation of New Industries and

Millions of Jobs

National

Security & State Resilience
Industry 4.0 Requires:
Broadband and NextG

Non-Stop Electrical Grids

Edge Computing

Intelligent Transportation Systems

Resilient and Redundant Position and Timing
INTELLIGENT INFRASTRUCTURE – FOUNDATION OF INDUSTRY 4.0
"We stand on the brink of a technological revolution that will fundamentally alter the way we live, work, and relate to one another. In its scale, scope, and complexity, the transformation will be unlike anything humankind has experienced before."
Klaus Schwab, WEF Executive Chairman
INDUSTRY 4.0 COALITION LEADERSHIP
Establishing an Industry 4.0 Foundation that is aligned with the United States DOD Trusted Capital program.
PROBLEM:
United States Government needs to Revitalize Industrial Innovation

Other nations like China have taken lead on key Industry 4.0 Intellectual Property

Industry 4.0 requires Intelligent Infrastructure to support R&D & Commerce
SOLUTION:
Coalition – Solidify Industry 4.0 strategy with Government – Academia – Commercial

Infrastructure – Deploy the Intelligent Infrastructure that will power Industry 4.0

Capital – Establish the Industry 4.0 Continuum of Trusted Capital – Dual-Use R&D (ARPA-X)
If the United States is going to lead the world with intelligent and autonomous production we need to invest in supporting Intelligent and Autonomous Infrastructure.
Leadership: Establish Industry 4.0 Coalition representing the diverse talents and industries aligned with Texas innovation regions and zones.
Economic: Bolster support with innovation zones, and developing regional ecosystems of business providers.
Infrastructure: Establish Special Purpose Vehicles to accelerate the deployment of the Intelligent Infrastructure that will power Industry 4.0. Fund 24/7 Corridors and GRIDS.
Capital: Create a Continuum of Capital playbook for Dual-Use technology aligned under the Trusted Capital program.
Jobs: Focus university programs, workforce development, and acquisition of talent on Industry 4.0
Research: Unified strategy for research and development of Industry 4.0 innovations with government, industry, and academic organizations. Leverage GURI to attract the best and brightest scholars and researchers from around the globe.
National:
Support the United States R&D priorities that align with Industry 4.0 dual use applications that accelerate national productivity and commerce. Nation's ability to produce needed parts and systems, healthy and secure supply chains, and a skilled U.S. workforce.
INDUSTRY 4.0 CONTINUUM OF CAPITAL
FAMILY OFFICE / VENTURE / PRIVATE EQUITY / PENSION FUNDS / TRUSTED CAPITAL
Dual Use Technology
Collaborative Pursuit of solutions aligned with National Security priorities
Continuum Capital
Including Family Offices, Venture Capital, Private Equity, Pension Funds, and Sovereign Fund.
Intelligent Infrastructure
Establish Research Facilities, Military Bases, and Commercial Corridors
Trusted Capital Council
National Guidance, Target Development, and establish OODA Loop Acquisition Process
Trusted Supply Chain
Chip Design, Manufacturing, Federated Data Models, with Certified Ledger
Policy, Tax Code
Opportunity Zones, reduced Capital Gains, Pooled DoD Funds
"5G is the bellwether, absolutely critical to everything going forward. Our failure to execute on 5G puts the rest – smart cities, smart communities, smart highways, driverless vehicles, Big Data, artificial intelligence, smart businesses – all at risk, needlessly.
Andrés Gluski, the CEO of AES
INDUSTRY 4.0 DEPENDS ON INTELLIGENT INFRASTRUCTURE
INDUSTRY 4.0 DEPENDS ON INTELLIGENT INFRASTRUCTURE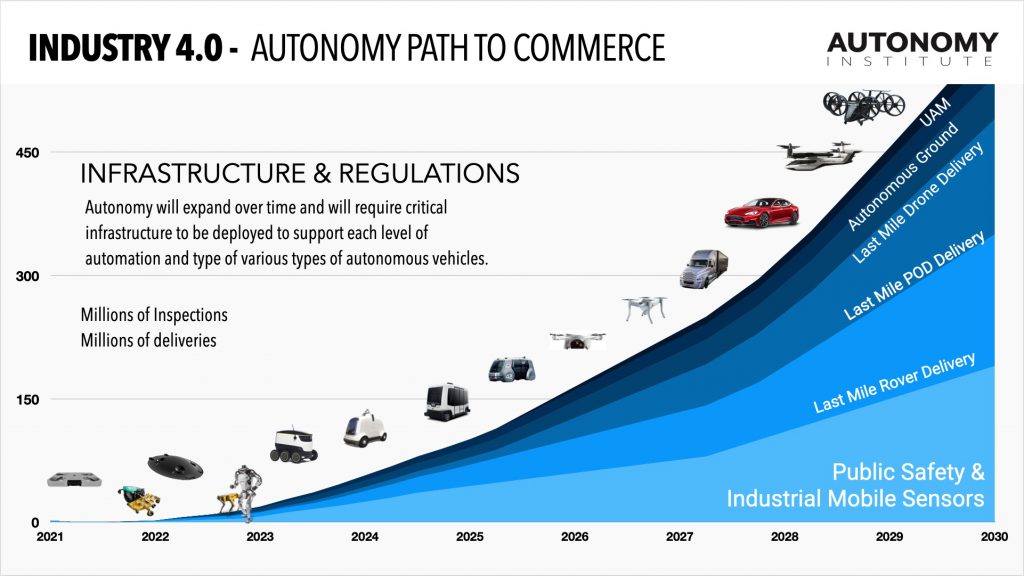 Increasing the United States OODA Loop for enabling Industry 4.0.

No more excuses, including how COVID is stopping the world on its axis. In the 1960s we built the most advanced and the first supersonic aircraft, the

SR 71

, in THREE years – while the world was experiencing 10X the magnitude of worldwide instability.

We had worldwide (pandemic) o

utbreaks of influenza that occurred in 1957, and 1968; the Cuban missile crisis; Bay of pigs; Civil Rights; The ramp of the Cold War; Vietnam; Three major assassinations; We had the equivalent of Millennials, they were called hippies and helped accelerate our natio. We also had John F. Kennedy – the "New Frontier". "We choose to go to the Moon in this decade and do the other things, not because they are easy, but because they are hard, one we are unwilling to postpone, and one we intend to win!

Industry 4.0 and Autonomy is this nation's biggest challenge and largest opportunity for massive productivity growth. We are currently failing, time to put social media and fintech behind us and get back to building!

Autonomy Institute is establishing an "All-Up" Digital Edge Program within the United States and there are billions of dollars from infrastructure investors to underwrite the intelligent infrastructure deployments. Our goal is to put millions of intelligent and autonomous systems to work and create the largest productivity boom in world history.

Accelerating construction, autonomous mobility, infrastructure management, etc. We are looking for strong advocates to ensure the United States is able to support the foundation of Industry 4.0.