Intelligent, Autonomous, and Electrified Ports
Port automation is driven on a digital twin baseline. Areas like ports are looking to increase efficiencies through new technologies today and add autonomous vehicles in the future. A digital twin can reside on platforms for coordinating various manned and autonomous systems like trucks, drones, shuttles, and robots. Now operations can work seamlessly and simply adopt new technologies and functionalities. Other use cases span from orchestration layers that unite autonomous tasks with business processes such as requesting, routing, or scheduling. The added automation to workflows increase efficiencies and overall cost effectiveness to facility management and operational insights. A port-wide digital twin could further enable automated inspection of facilities, operational and security viewports, multimodal optimizations, enhance vision and asset insight, and resilient localization.
"The future of seaports are undergoing bold changes – technology evolving this way means a more loop-inclined or circular approach rather than linear." Arik Segal, founder, and CEO of Conntix.
The Birth of Intelligent and Autonomous Systems.
There was a moment of time that for rail, for electricity, for communications, for aviation, for interstate highways, for the internet, for the cloud, . . . . . . . and now for the Intelligent Edge Infrastructure that will be the foundation for Industry 4.0. Electrified mobility, resilient electricity, additive manufacturing, autonomous systems, aerospace taking us to mars, intelligent and autonomous corridors, and unlimited bandwidth to anyone that wants to consume it.
Intelligent Infrastructure will drive the largest infrastructure buildout in our nation's history. Intelligent Infrastructure will be deployed across cities, highways, campuses, commercial developments, shipping ports, airports, and even private communities. 
Moving Freight Mobility Infrastructure into the Future
The Port of Corpus Christi Authority has entered into a Memorandum of Understanding (MOU) with Autonomy Institute Inc. to develop and deploy intelligent and autonomous projects along the port's Joe Fulton International Trade Corridor. Port of the Future.
The agreement between the two parties provides the Joe Fulton International Trade Corridor as a natural use case and proving ground for the deployment of intelligent infrastructure, such as Public Infrastructure Network Nodes (PINN), NextG wireless, assured position navigation timing, edge computing and smart IoT devices. The new partnership is a continuation of the Port of Corpus Christi's established Technology Advancement Program, which is designed to foster innovation to enhance safety and efficiency across multiple modes of freight mobility.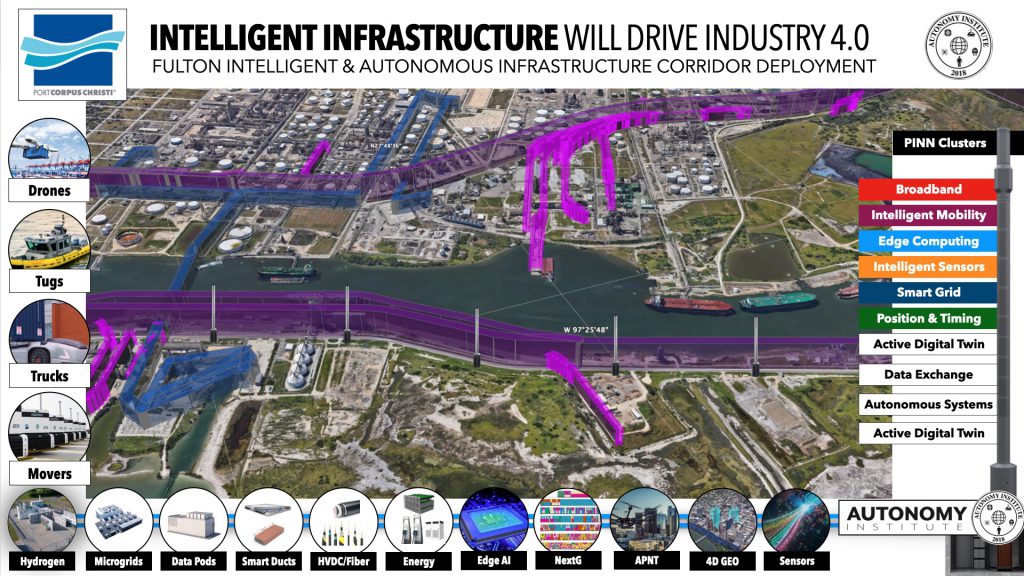 "PINN is the first unified open standard to incorporate 5G wireless, Edge Computing, Radar, Lidar, Enhanced GPS, and Intelligent Transportation Systems (ITS) as a single unified system," said Jeffrey DeCoux, Chairman, Autonomy Institute. "PINNs are designed to rapidly deliver a multitude of advanced edge sensors and computing capabilities urgently needed to support autonomy and IoT. Autonomy Institute is partnering with EDJX, the pioneer in distributed cloud services at the edge, to actively develop and deploy real-world solutions at the edge with the world's foremost innovators and thinkers in the field of autonomous and connected systems as part of activating the PINN, seen as the critical element required to advance intelligent and autonomous solutions for city resilience."
UNIFLY Published a great White Paper on Unmanned Traffic Management – Empowering Drones in Ports
POWERING & BUILDING THE WORLD
"Investment in a 21st-century Intelligent & Autonomous Infrastructure is among the highest priorities for stimulating economic expansion, national security, and job growth. Edge computing, 5G wireless, Intelligent Transportation Systems, RESILIENT APNT, and resilient electrical grids will drive the largest infrastructure buildout in our nation's history."