ACCELERATING EMERGENCY RESPONSE AND ENSURING RESILIENCE
Intelligent Infrastructure will provide transformational services for Public Safety and Disaster Management. The PINN deployments will provide support for emergency management and public safety enabling city and state resilience. This next-generation technology will be as vital as electricity and water are today.
With the impact of COVID, we do not have a choice but to accelerate planning, engineering, design, and deployment. Events like COVID help exemplify the need for more robust and intelligent systems within cities. Intelligent Cities will depend on Intelligent Infrastructure to support critical use cases for the community.
Emergency responders have been wrestling with a lack of communications, complete lack of power, and distribution of medical supplies during catastrophic events.
With proper preparation, we can respond to just about any event that heads our way.
LEVERAGING AUTOMATED SYSTEMS
Small UAVs are one of the most promising and powerful new technologies to improve disaster response and relief operations. They naturally complement traditional manned relief operations by helping to ensure that operations can be conducted safer, faster, and more efficiently.
When a disaster occurs, drones may be used to provide first responders with better situational awareness, locate survivors amidst the rubble or flood waters, perform structural analysis of damaged infrastructure, locate where to stage needed supplies and equipment, help direct first responders evacuate casualties, and help extinguish fires—among many other potential applications.
In advance of an emergency (Preparation & Prevention), sUAVs are able to assist with risk assessment, mapping, and planning. When individuals, businesses, and communities are able to understand and manage risks and plan effectively, they reduce overall damage and losses. Rebuilding and recovery are then able to begin more quickly and ultimately strengthening the resiliency of communities.
sUAVs have long been described as optimally suited to perform the "3-D" missions, often described as dirty, dull, and dangerous. They can provide needed aerial data in areas considered too hazardous for people on the ground or for manned aircraft operation, such as sites with nuclear radiation contamination or in close proximity to wildfires.
Currently, there are a number of challenges in deploying small UAV's to accomplish Search and Rescue (SAR), as well as, Incident Assessment, and Awareness (IAA) missions that are critical to saving property and lives. 
DRONES PROVIDE RAPID RESPONSE
INTELLIGENT & AUTONOMOUS CORRIDORS
The goal with Autonomous Mobility Corridors is to provide a safe and reliable zone of operation for the testing of autonomous systems. This includes the deployment of the critical infrastructure required to support high levels of risk mitigation and safety.
The creation of autonomous mobility corridors or avigation corridors, and/or geospatial areas over utility easements, public and private easements, critical infrastructure, and related property (individually and collectively "PINN Easements"). These PINN easements will enable autonomous systems to traverse public easements/properties, private easements/properties, and data associated therewith, in the support of community services. Community services include but are not limited to: infrastructure inspection and management, energy inspection and recovery post adverse event, public health air quality monitoring, micro-weather and environmental monitoring, agricultural inspection, wildfire prevention and mitigation, natural resources management, and intelligent transportation systems, autonomous vehicles, unmanned systems (i.e. drones), public and private security, wireless communications networks and spectrum activity and regulatory compliance therewith, and other technological systems supporting the community interests.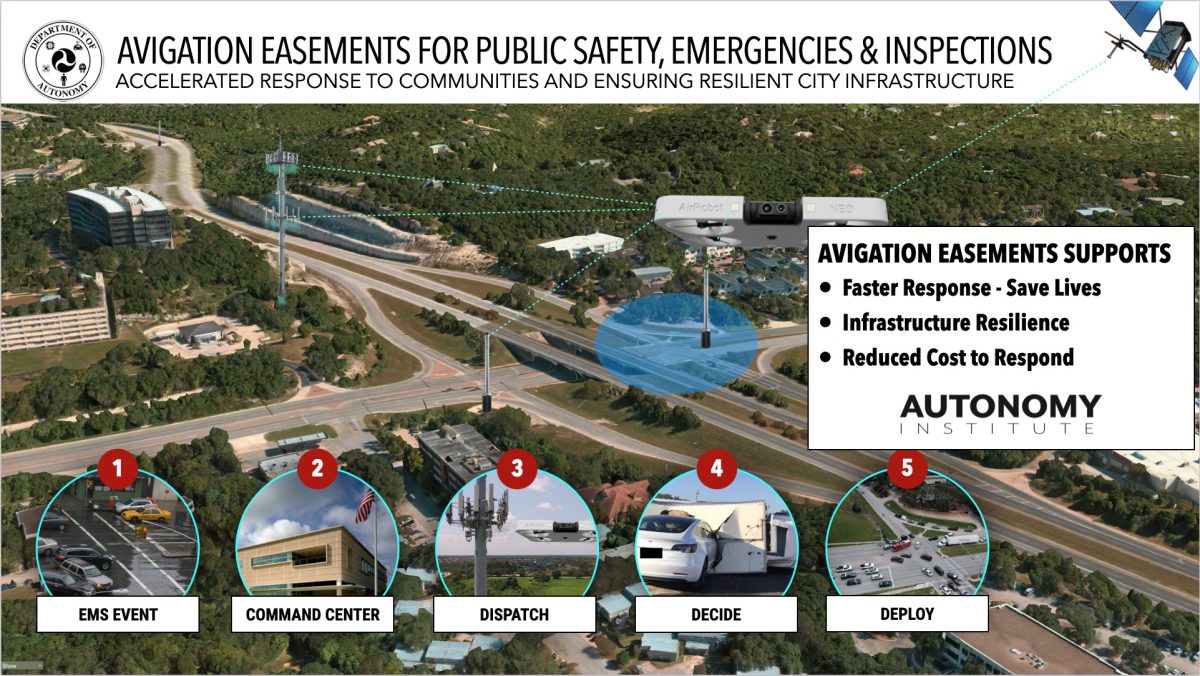 INTELLIGENT & AUTONOMOUS RESPONSE
INTELLIGENT INFRASTRUCTURE PUBLIC SAFETY CORRIDORS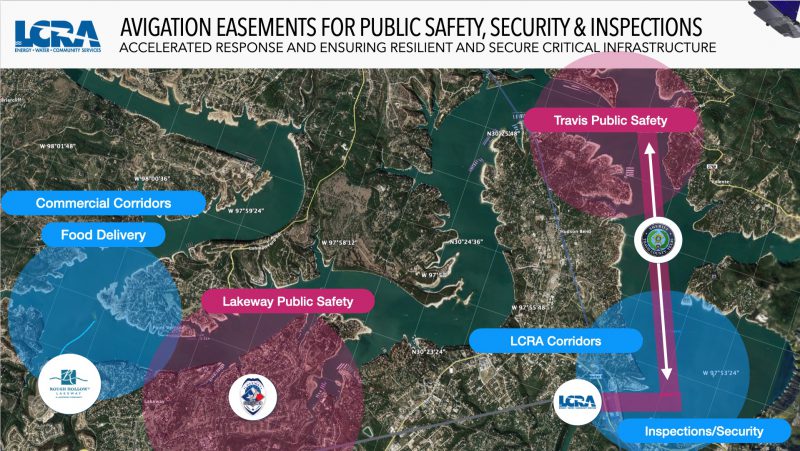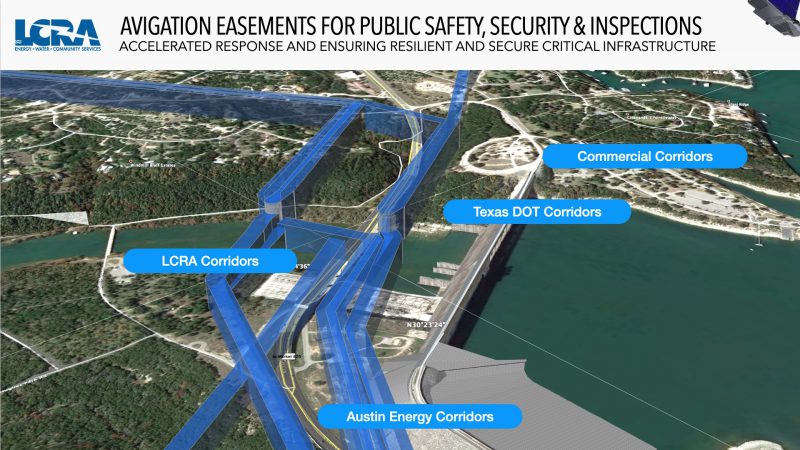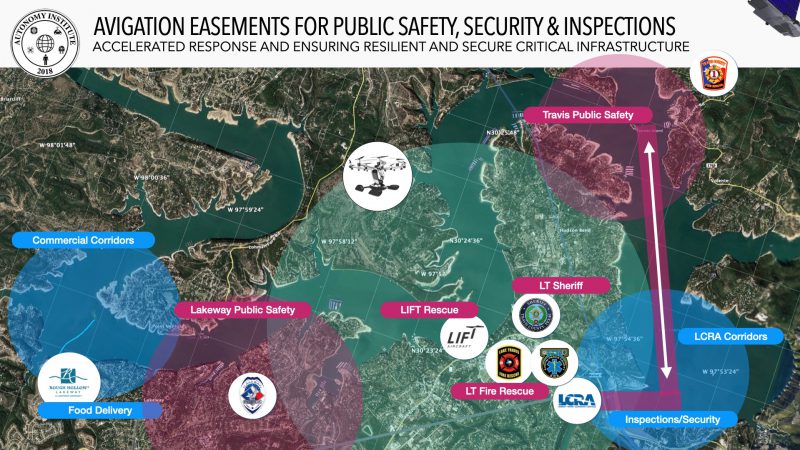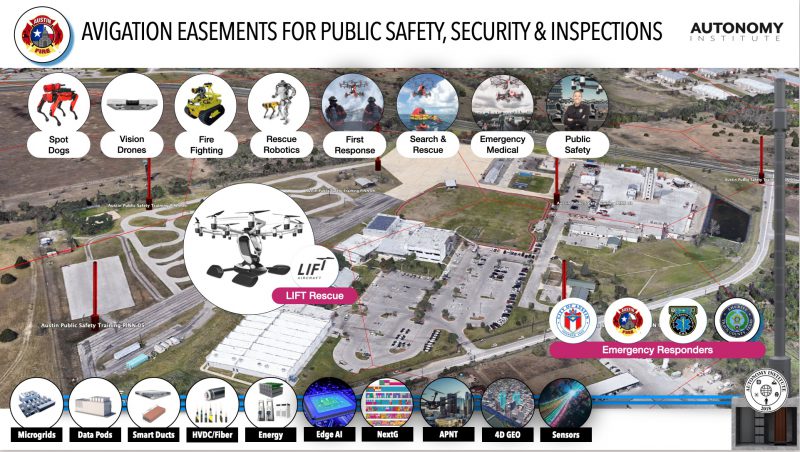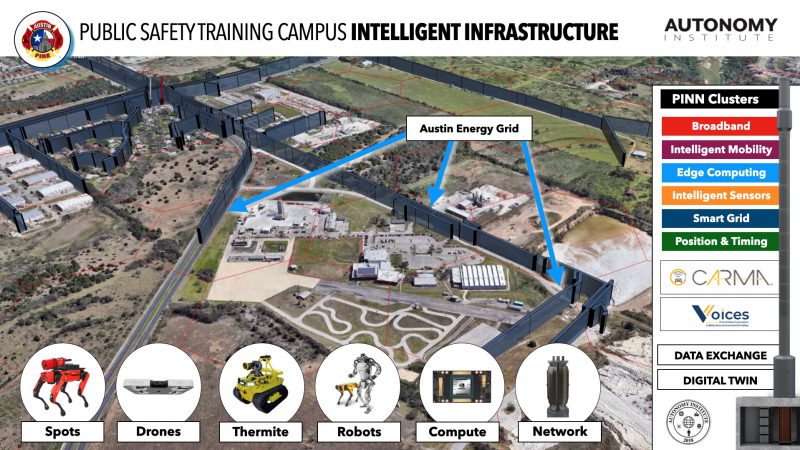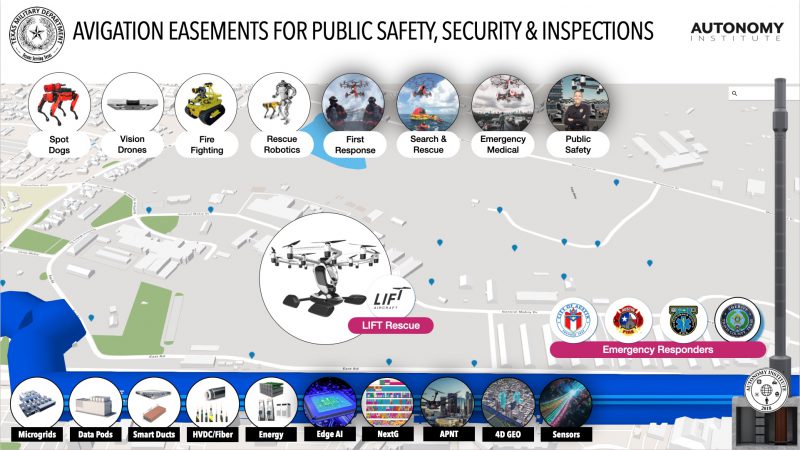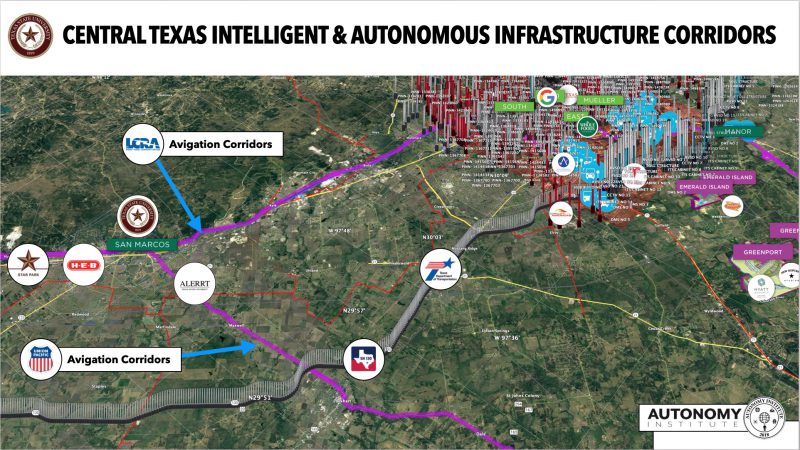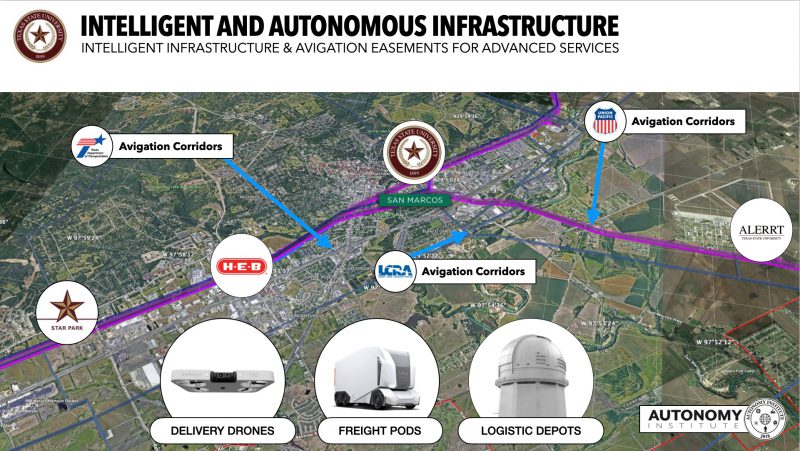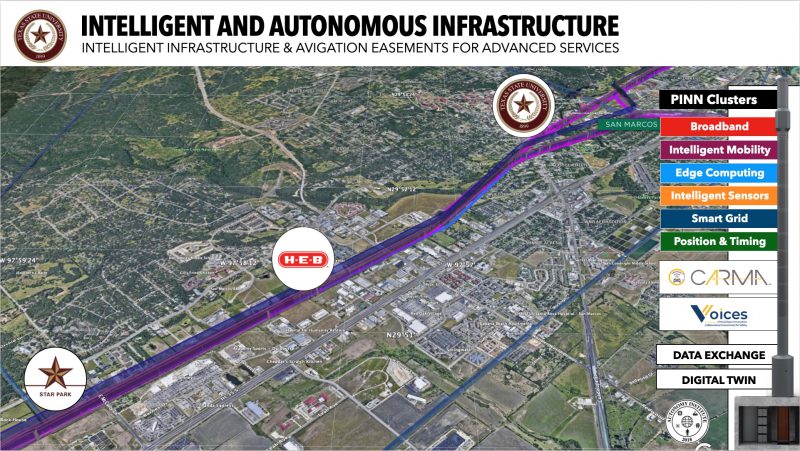 PUBLIC SAFETY DEPLOYMENT EXAMPLES