Building Intelligent, Connected, Inclusive, Autonomous, and Resilient 21st Century Communities.
The Autonomy Institute is working with a growing number of infrastructure investors that will underwrite large scale deployments of PINNs within the United States. The investors will provide rapid and expansive deployment of rural broadband, 5G, edge computing, assured position navigation & timing, resilient grids, intelligent transportation systems, and other systems critical to supporting the Industry 4.0 economy.
These Public-Private Partnerships (P3) will underwrite $100-$500 million dollar infrastructure programs. These P3 Programs can be supported by private investors or in combination with municipal, city, state, or federal bonds. The PINN clusters will be deployed within cities, on highways, and in rural communities. The PINNs will accelerate the nation's digital infrastructure that supports critical digital services. The mission is to have 10,000s of PINNs deployed by mid-2022 eliminating the digital divide and supporting the resilient and responsive city of the future.
INDUSTRY 4.0 COALITION
There was a moment of time that for rail, for electricity, for communications, for aviation, for interstate highways, for the internet, for the cloud, . . . . . . . and now for the Intelligent Edge Infrastructure that will be the foundation for Industry 4.0. INDUSTRY 4.0 COALITION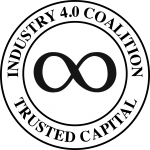 Supporting City, State, and Federal Leadership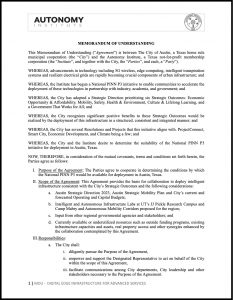 Memorandum of Understanding to Collaborate on Digital Edge Infrastructure via a P3 Program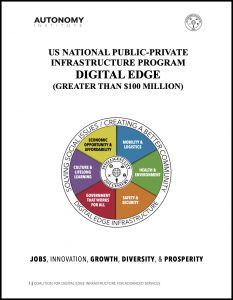 Digital Edge, National Public-Private

Infrastructure

Program (Greater than $100 million)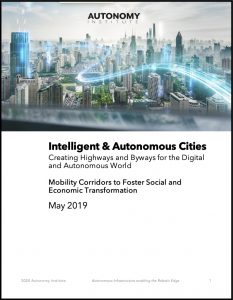 Implementation Plan for Intelligent & Autonomous Cities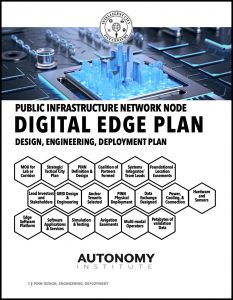 Digital Edge
Design, Engineering, Deployment Plan for City or Municipal Government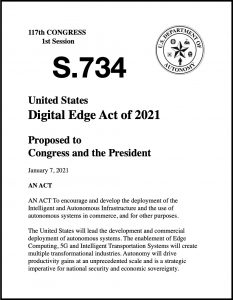 Digital Edge Infrastructure Commerce Act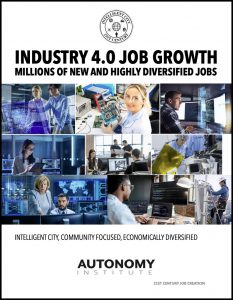 Industry 4.0 Job Training, Development, Creation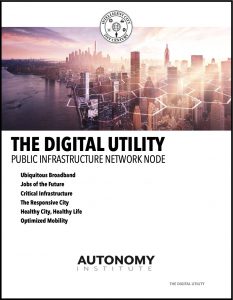 The DIGITAL UTILITY, Accelerating the Deployment of the New Critical Service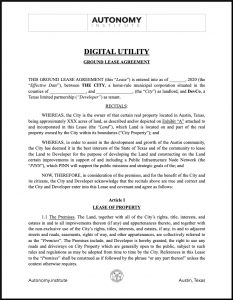 The DIGITAL UTILITY, Ground Lease for Public and Private Deployments

Collaborating with
Industry
Partners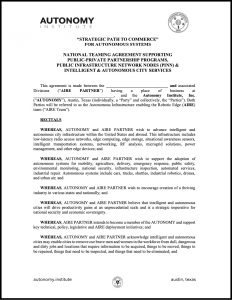 "Strategic Path to Commerce"
National Teaming Agreement Supporting
P3 Programs, PINNs, and Advanced Services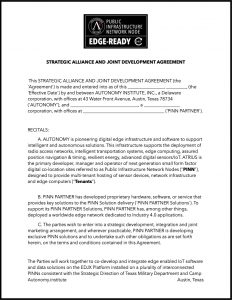 21st Century PINN Strategic Alliance and Joint Development Agreement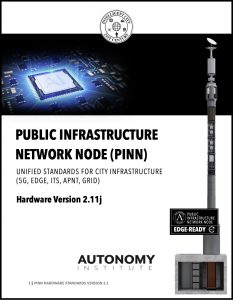 Public Infrastructure Network Nodes (PINN) Hardware Standards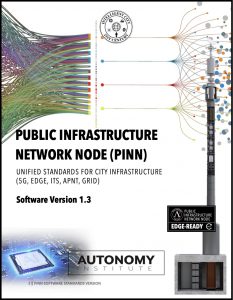 Public Infrastructure Network Nodes (PINN) Software Standards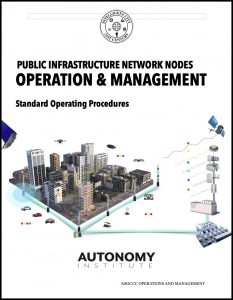 PINN Standard Operational Procedures, Standards, Management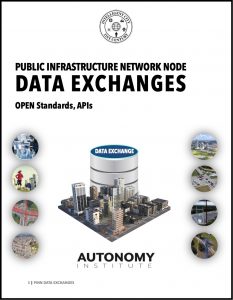 PINN DATA EXCHANGE Design and Management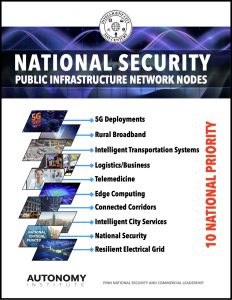 PINN Addresses Over 10 of the National Strategic Priorities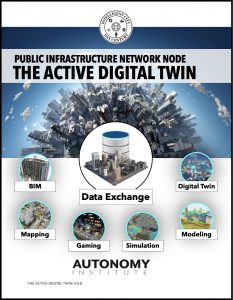 The Active Digital Twin to support Intelligent and Autonomous Cities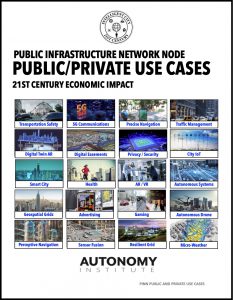 PINN Public/Private Use Cases for Both Community and Commerce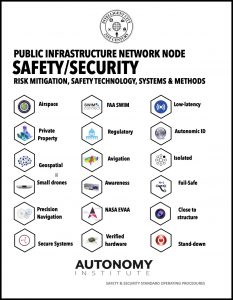 Intelligent and Autonomous Systems – Risk Mitigation, Safety, Security, Systems & Methods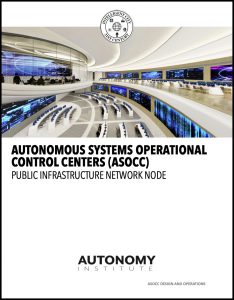 Autonomous Systems Operational Control Centers (ASOCC), City, State, Regional Facilities
Working with Universities, Government Agencies, and Research Labs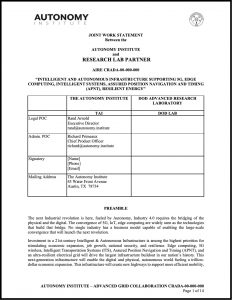 State and Federal Cooperative Research and Development Agreement (CRADA)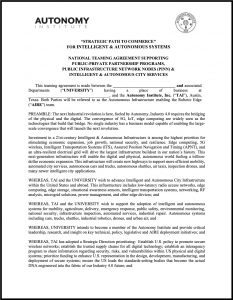 University Research and Development Agreement with Support for Autonomous Mobility Corridor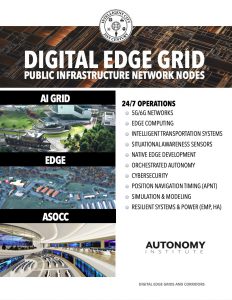 Autonomous Infrastructure GRID or Autonomous Mobility Corridor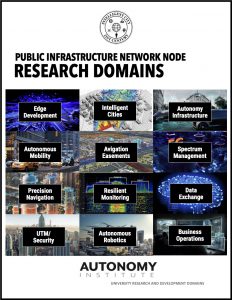 University Research and Development Topics, Programs, and Initiatives
Working with Investors and
PINN
Developers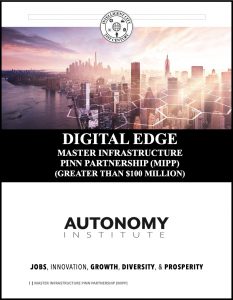 Master Infrastructure PINN Partnership (MIPP)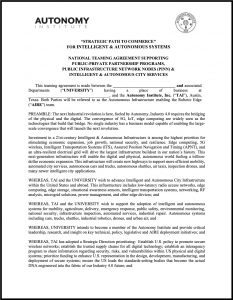 University Research and Development Agreement with Support for Autonomous Mobility Corridor
Establishing Public-Private Investment for Municipalities
The Autonomy Institute and the Partners will work with qualified financing, engineering, procurement, construction, and operating partners to establish funding to support design, development, implementation and large-scale deployment of the Intelligent and Autonomous Infrastructure.
P3 Partnership Objectives
They are long-term and involve a combination of large and small private entities and local, state, and/or federal government agencies;

They are intended to provide timely delivery of products, services or facilities in a cost-effective manner that can be more time-efficient than using traditional sources of procurement and public financing;

The risk is shared and because of this shared risk the rewards are shared;

The formation of a P3 is a proven way to ensure that state-of-the-art solutions are being employed without compromising stakeholder risk criteria or infringing intellectual property rights of partner assets;

Transparency will ensure that all project elements are optimized for efficiency, life-cycle costs, and operational flexibility and that stakeholder voices are heard and reasonably represented.
P3 Partnership Benefits:
They provide better infrastructure solutions than an initiative that is wholly public or wholly private. Each participant does what it does best;

They provide common standards, networks, and platforms that can support faster deployment and higher impacts on communities;

They result in faster project completion and reduced delays on infrastructure projects by including time-to-completion as a measure of performance and therefore of profit;

A P3's return on investment (ROI) might be greater than projects with traditional, all-private or all-government fulfillment;

Innovative design and financing approaches become available when the public and private entities work together;

Risks are fully appraised early on to determine project feasibility. In this sense, the private partner can serve as a check against unrealistic government promises or expectations;

Since risks and rewards are shared and distributed, this leads to greater alignment and transparency between the partners which contributes to overall project delivery efficiency and concurrently ensures that project participants are always in alignment with project goals;

Financial incentives may exist under state and federal tax provisions that provide a benefit to the project and improved ROI;

The operational and project execution risks are transferred from the government to the private participant, which usually has more experience in cost containment; and

High-quality standards are better obtained and maintained throughout the life cycle of the project.